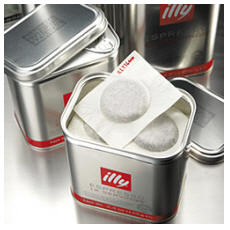 Here you'll find the full details of the very latest FrancisFrancis X1 coffee machines.
The latest machine is now ground coffee only, no POD compatibility any more.
For POD compatibility the FrancisFrancis X6 and FrancisFrancis X3 coffee machines are the ones to go for.
Please note, any information that you may find here on www.francisfrancisUK.co.uk are considered to be old pages. Best efforts have been made to ensure there is no contradictory information on the older pages. For the latest up to date information on the latest FrancisFrancis range, please follow the link to our online shop, www.craystoneshop.co.uk.
Thanks and see you on the new site soon.
---
When you purchase a coffee machine, we include a sample 250g tin of Illy ground coffee.
If you need to purchase ESE pods for your X1 Classic machine, we offer illy ESE pods in both Standard and Decaf varieties.
The ESE pods are individually sealed and have a very long shelf life - over 12 months in most cases, so stocking up on multiple boxes is never a problem with illy, and in doing so you can enjoy the perfect cup of coffee time after time.
If you own a FrancisFrancis X1 Classic (either Brass boiler -April 2004 onwards - or Aluminum boiler - pre 2004) then you can use ESE pods.
Also if you own a FrancisFrancis X3 Classic, or a FrancisFrancis X6 TRIO (designed solely for pods) then ESE pods are also for you.
You may own a X2, X4 or X5 machine - all capable of taking illy ESE pods.
Please note the latest FrancisFrancis X1 is ground coffee only. ESE pods cannot be used with the new model.
Visit the online shop for all the latest information.
---

What are E.S.E Pods?
The Illy E.S.E (Easy serving Espresso) pods are single 7 gram servings of ground coffee, compacted and sealed between two different layers of filter paper. The upper filter paper has a strong filtering action so that any impurities in the water are restricted and the drawing up of coffee particles into the machine after infusion is prevented. The filtering properties of the lower paper is less to allow even the largest coffee molecules to enter the cup. The precise amount of coffee, ground to perfection is then available to make the perfect cup of espresso, and of course there's no mess with used coffee grounds. The most simple, quick and clean method - it takes the guess work out of making a great cup of coffee.
How do I use them?
Simply insert the E.S.E pod writing side down in the E.S.E handle, pass the heated water through it, (think of it as a super compressed teabag) 20 seconds later you have the perfect cup of coffee. The used pod can be disposed of quickly and easily without any mess. Pop in another pod and your next cup is ready to be filled.
A good tip is that the used coffee pod can be put on your garden - plants, it seems, like a good cuppa to.
Where can I buy more?
Illy Pods are sold in vacuum sealed tins, containing 18 individual servings.
We sell CASES of 10 sealed tins (180 servings). You can choose between medium roast or decaf medium roast. The sealed containers have a long life, in most cases well over a year. So don't be put off buying 10 tins - of course you'll use them up well before the 'best before date'.
Cases of pods are £83.00 delivered.
If you own an older X1or X3, and do not wish to use the E.S.E system, and prefer to use your own blend, then simply use your own coffee along with the ground coffee adapter kit.
Please visit our new secure online shop for details of the full FrancisFrancis range



(our new secure online shop)
---
---
Please visit our new online shop at: CraystoneShop.co.uk
From the 1st Feb 2017 our new contact details are: Craystone Investments Ltd
149A Chorley New Road, Horwich, Bolton, BL6 5QE.
Tel: 01204 396301
Email: info@craystoneshop.co.uk
www.craystoneshop.co.uk & www.ilovecoffee.co.uk & www.craystoneshop.co.uk
Established Dec 1992.
---