Tandberg Data
BakStor, SLR, LTO, DLT, SDLT, VS, Autoloader Backup Drives
Craystone is a Tandberg Data Authorised Reseller

Craystone Investments Ltd 149a Chorley New Road, Horwich, Bolton, BL6 5QE Tel: (0)1204 396301 Fax: (0)1204 396301 Email: tandberg@craystone.com
www.tandbergdata.co.uk
Tandberg Data slr100 Product Information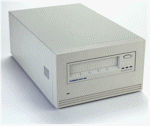 The Tandberg SLR100 offers 100GB* storage capacity and up to 36GB/hr* transfer rate. The soft-load mechanism prevents unauthorised access and allows integration into SLR automation products.



The SLR100 incorporates the VR2™ (Variable Rate Randomiser) technology developed by Overland Data, which significantly increases the native capacity and native data transfer rate performance of linear tape technologies without requiring any changes in tape path design, recording heads and/or media.

The Tandberg SLR100 tape drive features a variable data transfer rate with "auto-sense" capabilities which allows the tape drive to adjust itself to the host bus, yielding optimal system performance. This feature of drive intelligence is combined with in-line compression, enabling hardware compression before it enters the buffer, thereby freeing valuable storage capacity. Additionally, the combined support of the SCSI Ultra2 Wide LVD/SE interface allows for maximum performance when connected to either a Ultra 2 wide single ended or LVD bus.

The standard 5.25-inch half-height form factor Tandberg SLR100 tape drive can be installed, connected and operating in no time at all. Broad software support provides compatibility with almost every system available today. The SLR100 is available as complete turnkey solutions for desktop and network applications, or tape drive kits without software (see configurations chart below).
SPECIFICATIONS
Product
Capacity

Transfer Rate (MB/s)

File
Access Time
(1/3 stroke)

Media
Load Time

Native

Compressed*

Native

Compressed*

SLR100

50GB

100GB

5

10

58 sec

<30 sec

COMPATIBILITY
Backward Write
SLR50¹
Backward Read
SLR50¹, SLR32¹ & SLR24¹
CONFIGURATIONS
Item
Drive Kit
Complete Solutions
Drive

Internal

External

Internal

External

CD Software Suite (with instruction manual on CD)

Internal SCSI Wide Cable with termination (removable)

External SCSI Wide Cable

External SCSI terminator (LVD/SE)

Media Cartridge

Power Cable

Utilities Diskette

Cleaning Cartridge

SOLUTIONS
Single Server Suite
NT and NetWare.

n/a

Included

Other operating system support:
SUN Solaris, AIX, SCO-Unix, UnixWare, UNIX, HP-UX, Linux

Supported in Operating System

Macintosh, Windows 98, NT Workstation

Support available through other software
SLR is a registered trademark of Tandberg Data. VR² is a trademark of Overland Data Inc.
¹ SLR50, SLR32 & SLR24 were previously known as MLR3, MLR1 and SLR6 respectively
* Assuming 2:1 Data Compression


Please contact us for availability.
All prices exclude 20% VAT and carriage.
Prices will change on a monthly basis. E.&O.E.
Credit/Debit card payments taken.
---
Please contact us for pricing, availability and more information.
CRAYSTONE INVESTMENTS LTD www.tandbergdata.co.uk 149A Chorley New Road, Horwich, Bolton, BL6 5QE, UK Tel: (0)1204 396301   Fax: (0)1204 396301 tandberg@craystone.com info@craystone.co.uk
---