Tandberg Data
BakStor, SLR, LTO, DLT, SDLT, VS, Autoloader Backup Drives
Craystone is a Tandberg Data Authorised Reseller

Craystone Investments Ltd 149A Chorley New Road, Horwich Bolton, BL6 5QE Tel: (0)1204 396301 Fax: (0)1204 396301 Email: tandberg@craystone.com
www.tandbergdata.co.uk
Tandberg LTO2 LTO-2 420LTO LTO Tape Drive
Intelligent Data Protection
One of the world's fastest and most compact LT02 drives
The Tandberg LTO2 420LT0 offers one of the industry's fastest transfer rates (24MB/sec native, 48MB/sec compressed) with high capacity of 200Gb (native) and 400Gb (compressed) to minimize backup times. Its compact size (only 8.4 inches deep) provides simple and easy integration into all servers and workstations.
Lowest power consumption for higher reliability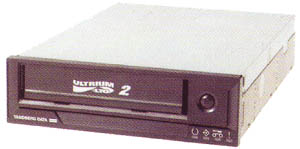 Offering the lowest power consumption (18W operating) amongst LTO tape drives on the market, the Tandberg LTO2 420LT0 has a unique airflow design that eliminates the need for a noisy fan and minimizes heat dissipation throughout the drive for greater reliability and increased MTBF.
Easy scalability to protect investments
Fully compliant with the LTO Ultrium2 format, the Tandberg LTO-2 420LT0 tape drive protects a company's investment by offering full read/write compatibility with LT01 tape drives and media. It is the first LTO tape drive offering from a 5 generation half height value-priced LTO roadmap. 420LT0 is also available in the Tandberg StorageLoader, the industry's first 1 U LTO autoloader offering up to 3.2TB* of automated storage capacity.
Enterprise-level performance
The Tandberg LTO-2 420LT0 features an Automatic Variable Transfer Rate to match host transfer speeds, as well as a state of the art Ultra 320 SCSI interface, providing maximum data throughput and backup and restore times.
Cartridge environment secures data
Tandberg Data's patented "Smart tripper" technology securely locks the media leader pin to help insure positive tape loading. The drive also includes an embedded media management feature for intelligent diagnostics and tape alerts along with an automatic head cleaning brush for advanced preventive maintenance and reduced down times.
Low cost per Gigabyte
An affordable entry-level cost, high performance combined with enterprise-level reliability and features makes the Tandberg LTO2 420LT0 the best price/performance tape drive in the industry.
Designed with quality in mind
The LTO-2 420LT0 is backed by Tandberg's more than 25 years of experience in linear tape technology research, design and manufacturing.
*
2:1 Hardware Data compression
LTO2 420LTO Features and benefits
This half-height compact tape drive is one of the world's fastest and most compact, delivering the economic value and high performance required for the SMB market
Fast transfer rates of up to 48MB*/sec to meet today's shrinking backup windows

400Gb* capacity at an affordable price delivering low cost/GB with enterprise-level features

Low power consumption (18W) and unique airflow design to increase reliability and lower TCO

Compact dimensions to permit mounting in any standard half-height 5 1/4-inch bay

Automatic. Variable Transfer Rate to match host transfer speeds and shorten backup times

3 years warranty, free hotline and support
---
Please contact us for pricing, availability and more information.
CRAYSTONE INVESTMENTS LTD www.tandbergdata.co.uk 149A Chorley New Road, Horwich, Bolton, BL6 5QE, UK Tel: (0)1204 396301   Fax: (0)1204 396301 tandberg@craystone.com info@craystone.co.uk
---